Collaborating, Building Relationships, Setting Yourself Apart From Others In Your Industry & Building A Brand Through Social Media
The beloved Pretty Peach Workshop is back! This time it's centered around a delicious three course brunch with a signautre drink at ONE. midtown kitchen's outdoor patio. We will break down a full days worth of material in four hours. This workshop is designed for all bloggers, photographers and small business owners seeking to learn more about collaborating, building relationships, setting yourself apart from others in your industry & building a brand through social media.
Our Mission
Our mission is to provide an educational experience that equips & inspires photographers, creatives, bloggers and small business owners to move beyond the current state of their business & experience a new level of success that they never thought was possible!
Is This Workshop For You?
Answer the following questions to see if The Little Peach Workshop could be the missing link to your business growth!
Do you dream about quitting your day job and becoming a full time business owner?
Are you stuck in the "friend zone"? Meaning all of your clients are friends paying little to nothing for your services?
Do you want to learn how to expand your band?
Do you want to learn how to take more professional photos for social media?
Is your business growing but you know you're not where you want to be and don't know why?
Do you struggle getting pretty pictures for your social media account?
Are you charging less than you're worth and have no idea how to increase your value to clients?
Do you want to learn how to collaborate with BIG brands and get paid to do it?
The list goes on. If you're struggling in your business, we know it's scary and everything seems so uncertain. However, the truth is, you deserve to have a successful business, you deserveto earn a profit… a GREAT profit! If ANY of this resonates with you, this workshop is FOR YOU & it will be a turning point for your business.
Speakers
Shelby Steckbauer | ShelbyRae Photographs
Shelby is a wedding, portrait & fashion photographer based out of Atlanta + Wisconsin and co-founder of The Pretty Peach Workshop. Her style is very natural, real & unique and she thanks the Lord each and every day for allowing her to capture moments in peoples lives. She found that her love was not just in taking photos.. but it was PEOPLE. Her business has allowed her to meet the most amazing clients & friends that she will cherish her whole life. Her passion lies in the moments that she can connect with her clients, whether it be chatting about fashion with her fashion bloggers or planning wedding details with her brides… She has been featured in Southern Wedding, Style Me Pretty, The Southeastern Bride, Wisconsin Bride Magazine and Pottery Barn Kids, just to name a few.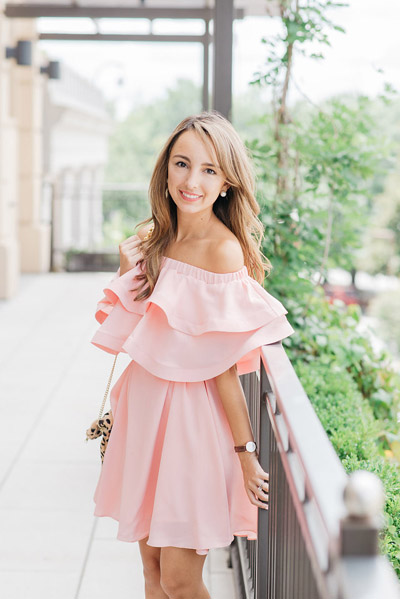 Luisa | Peaches To Pearls
Luisa is the beauty and brains behind the successful blog Peaches to Pearls and co-founder of the Pretty Peach Workshop. Her lifestyle blog focuses on her two biggest passions, food and fashion. Thanks to Peaches to Pearls, Luisa has had the opportunity to work with prestigious brands such as Anthropologie, Ritz Carlton, Starbucks, William Sonoma, American Eagle, Hallmark, Wallgreens, Olay, FRY Boots and much more! She has been  recognized by Southern Living Magainze as one of the best Southern fashion instagrams to follow and was recently named Atlanta's Best 2017 Lifestyle Blogger by Jezebel Magazine!!
What does your ticket include?
A seat to the workshop, a delicious three course brunch with signature drink at ONE. midtown kitchen and priceless memories and networking that will last forever!!
What do I need to bring?
Camera (if you have one!) business cards, a huge notebook, pen, a huge smile and tons of questions!
Photobooth
We will have a photobooth set up for everyone to take fun pictures at and will have a photographer taking the photos so wear something cute! 🙂
EMAIL:
theprettypeachworkshop@gmail.com
We can't wait to see you!!
June 14, 2015

August 30, 2015
March 30, 2016
October 1 & 2, 2016
March 5, 2017
August 20, 2017
NEXT DATE: TBT